CD / DVD / Blu-ray Burning Options
To access the burn settings dialog, select CD / DVD / Blu-ray Burning Options from the Options menu, or click on the Options button in the Burn CDs window: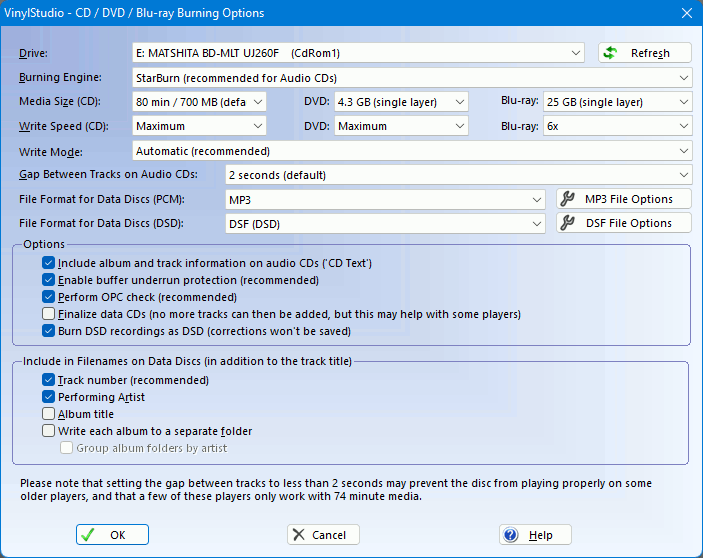 Please note that Blu-ray discs are supported in only.
Drive: selects your burner. There will normally be only one, unless perhaps you also have an external drive.
Burning Engine can be used to select IMAPI if StarBurn fails for any reason. StarBurn is recommended for Audio CDs because it can burn CD-Text, whereas IMAPIv2.0 is better for data discs. IMAPIv1.0 has limited functionality and is not recommended.
Media Size: can be used to specify the size of media you are using. Alternatively, insert blank media into your drive before you start dragging tracks across to the burn list. VinylStudio will then calculate the available space automatically.
Write Speed: allows you to reduce the write speed. This is normally unnecessary but with some burners, discs written at lower speeds can be played on a wider variety of players.
Write Mode: allows you to force VinylStudio to use a particular write mode when burning audio CDs. VinylStudio normally selects the best method for your particular drive automatically but it can be useful to be able to override this setting for certain drives. The Disk-at-once methods produce the most compatible discs, and you must select Disk-at-once Raw PW (or Automatic) to include CD-Text on audio CDs.
Gap between tracks on audio CDs: this is normally 2 seconds but you might like to experiment with 'gapless' CD's if you are recording live albums. Please note however that not all players can play such CDs reliably.
File Format for Data Discs:: select the file format (e.g. MP3) for files written to data discs. To change compression and encoding options, click on the File Options button.
Include album and track information on audio CDs: writing this information to audio CDs is normally safe enough but many CD players do not display it.
Enable buffer underrun protection and Perform OPC check should both normally be enabled. These options are provided in case using these features causes problems with your particular drive.
Finalize Data CDs: should not normally be enabled, but a few players will only play finalized discs. You cannot add any further tracks to a finalized disc, even if it is not full.
Include in Filenames on Data Discs:
Track number: ensures that the files on the disc remain in the order that the tracks appear in the burn list; if you uncheck this box, they will appear in alphabetical order.
Performing Artist: names files on the disc in the form Artist - Track Title.
Album Title: names files on the disc in the form [Artist -] Album Title - Track Title.
Write each Album to a separate folder ( only): creates a separate folder for each album written to the disc. This can be useful for players that can only handle a limited number of files in each folder or to keep the disc organised.
Group album folders by artist: creates, in addition to the above, a separate folder for each artist.